RX Prescription Pads
New Jersey's #1 RX Pad & Prescription Pad Supplier - Rx Prescription - Easy Ordering
*Call and Talk To A Real Person!
#1 Supplier of RX pads in the State of New Jersey. Our New Jersey prescription pads are printed following State of NJ regulations using only NJ RX certified prescription pad paper. 1 Part/Single Sheet, 2 Part Carbonless and Computer Laser Forms Are Available
Ridgewood Press located in New Jersey, why go out of state for Prescription Pads? Have your RX Pads printed locally, by a full service NJ Printing Company. Lower Shipping costs, and personalized service for all your printing needs.
SAME DAY PRINTING & SHIPPING AVAILABLE!
Inquire For Details
Now, finally in New Jersey - Quick & Easy® ordering of your NJ RX Pads (Prescription Pads) . Quick, Simple and Straight forward; all of this at some the Best Prices! All Printing & Shipping is from New Jersey!
Whether you order your NJ Prescription Pads via our Web Site, or call (201) 670-9797 and speak to one of our trained consultants,we are the only company in NJ to offer the Quick & Easy® Rx Pads process.
Quick & Easy® RX Pads Pricing - Please click Image to see Large Size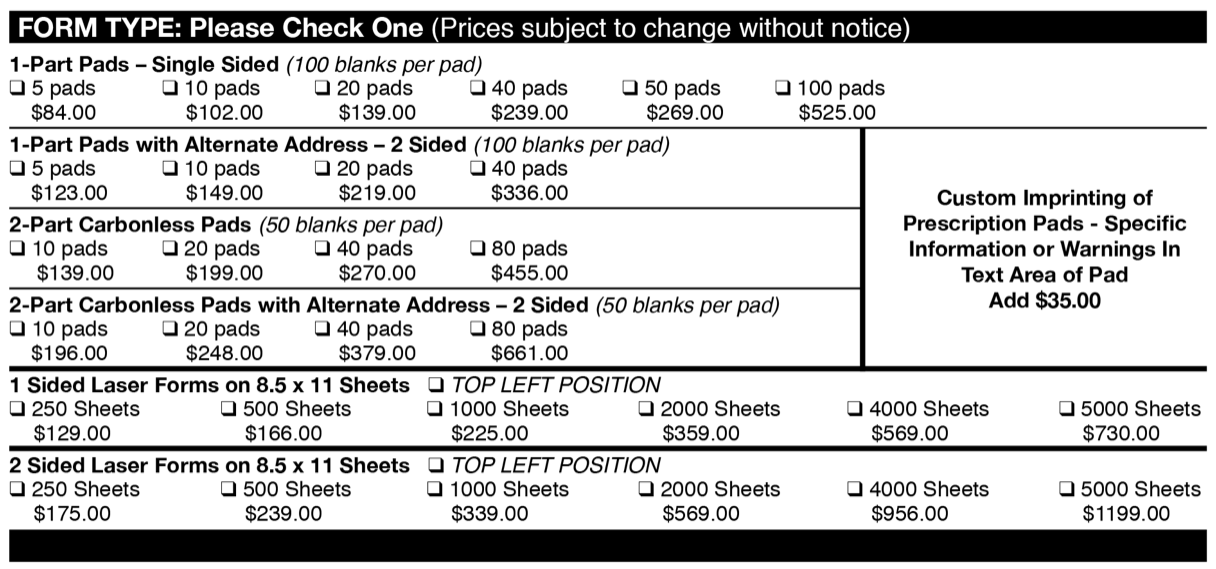 * Single sheet Rx forms are padded, 100 Rx sheets per pad.
** 2 Part Carbonless Rx forms are padded, 50 sets per pad. The second copy is a WHITE Duplicate sheet.
Additional addresses are printed on the back side of the prescription form with ballot boxes for alternate addresses.
Rx Pads, Secure scripts, Rx paper, Prescription pads, Fraud proof prescriptions, New Jersey, Counterfeit proof, roll script paper, Security Paper, Rx paper, Security Paper rolls, safety paper, medical scripts, prescriptions.
How to Order RX Pads
Download the 3 page order form and the credit card authorization form below and print out of your printer (one per prescriber). You will need to read CAREFULLY !
1. Collect signatures from all prescribes (if more then one prescriber on blank)
2. Designate a single office contact responsible for shipment. Please note the order must be shipped to the address registered with medical license board. (This could be the prescribers office or home address)
3. When 2 page Rx form and and credit card authorization form are received we will begin your order. You will receive a proof for approval prior to printing of order. All Rx orders are billed directly to your credit card, credit terms available upon request.
4. All orders must be sent to Ridgewood Press by Email, FAX or Mail:
Click the above Link download the Rx Prescription form, fill out completely and email, fax or mail:
Email Rx Pad Order To:
rx@ridgewoodpress.com
Fax Rx Pad Order To:
201.670.9798
Attention: Rx Department
Mail Your Rx Order To:
Ridgewood Press
609 Franklin Tnpk.
Ridgewood, NJ 07450
Questions?
Contact our Rx Prescription Blank Specialist at (201) 670-9797 Ext. 4
NOTE: IMPORTANT INFORMATION FOR ALL RX PRESCRIPTION BLANK ORDERS!
Per state requirements, all orders and reorders for New Jersey Uniform Prescription Blanks must be submitted in writing via email, mail or fax.
Use one Order Form per prescription blank order. Up to Eight prescriber names and one address may be printed on the front of each prescription. (Additional addresses may be printed on the back for an additional cost.)
The address used for shipping the Rx Prescription Pads must match with the listing of authorized prescribers or health care facilities on file with the state Licensing Board (not DEA # or NPI #).
License number must be provided for each prescriber or facility.
The signature of each authorized prescriber or health care facility representative must be provided with each RX Pad order.
Not responsible for typographical errors, prices subject to change without prior notice.
Shipping of orders additional. State law requires shipment to prescribers address on file.
Ridgewood Press is the #1 Supplier of RX pads in New Jersey. Our New Jersey prescription pads are printed following State of NJ regulations using only NJ RX certified prescription pad paper. Always order your prescription pads from a reliable source. Ridgewood Press is located in New Jersey and All Printing & Shipping is from New Jersey. We are an Approved Sales Representative of NJ Prescription Blanks.